RABE Peter Heinrich Wilhelm
Peter Heinrich Wilhelm RABE was born the 5th Nov. 1837 in Oldendorf, Germany. He died on 4 Jul. 1914 on the Farm Goedetrouw near Piet Retief. His parents were Hans Heinrich RABE and Catharine Marie Dorothee Otte. He lost his mother when he was 14 years old.
After finishing school he became a Taylor. His training as Taylor was done in Bergen, Lower Saxony, Germany. He decided to become a missionary. His theological training was done at the Hermannsburger Missionsanstallt in Hermannsburg, Lower Saxony, Germany. This was from 1861-1866. He arrived in South Africa on board the ship Kandaze on 8. July 1866. He first worked on a missionary station in northern Natal. Subsequently he went to the missionary Thomas Jensen on the station Linokana in Western Transvaal to learn Tzwana. He founded the missionary station Emmaus in western Transvaal. Here he worked till 1874.
On the 8. July 1868 he married Christiane Ida Wundram on the missionary station Entembeni in Natal. She was born on the 26 Feb. 1848 in Beckedorf, Germany and died 20 Jul. 1916 on the Farm Goedetrouw near Piet Retief. She was the daughter of Ernst Wilhelm Lorentz Wundram and Maria Dorothea Hornbostel.
After leaving the Hermannsburg Missionary Society, he moved to Lüneburg in Natal, where his two brothers and father were also living. He first worked as transport driver (transportryer). After this, he had general store in Lüneburg. When the German Lutheran Church in South Africa split into two different churches, he stayed loyal to the original church. He was a founding member of the German Lutheran church in Braunschweig, Natal in 1892. He then had a general store in Piet Retief. After his house and shop were burnt down by the British during the Boer War, he continued farming on his farm Goedetrouw near Piet Retief, which he acquired in 1882. He died on the 4. July 1914 on his farm Goedetrouw due to liver failure.
He had the following children with his wife:

b1. Ernst Heinrich Wilhelm * 12 Okt. 1869; † 13 Jun. 1925
x Judith Wilhelmina Everson

b2. Ida Louise Henriette * 18 Jun. 1871; † 1 Aug. 1946
x Heinrich Johannes Bernhard Röhrs

b3. Anna Gesina Johanna * 1872; † 5 Feb. 1917 (Not married)

b4. Ottilie Dorothee Johanne * 1 Jun. 1873; † Nov 1948
x August Dollenberg

b5. Otto Heinrich Wilhelm * 1 Jun. 1873; † 16 Mai 1939
x Louise Dorothea Margaretha Röhrs

b6. Helene Anne Johanne * 5 Dez. 1874

b7. Ludwig Heinrich Wilhelm * 15 Dez. 1876 (Not married)

b8. Emilie Mathilde Sophie * 5 Mai 1879
x John Hartman

b9. Wilhelmine Christie Marie * 18 Jul. 1881

b10. Gustav Adolf Heinrich * 16 Aug. 1882; † 7 Jan. 1928
∞ Maria Magdalena Amalie Pauline Schiel

b11. Ernst August Wilhelm Eduard * 27 Aug. 1883; † 8 Jul. 1979
∞ Maria Elizabeth van Rooyen

b12. Johannes Friedrich Wilhelm Ferdinand * 24 Aug. 1884; † young

b13. Ferdinand Heinrich Hermann * 11 Apr. 1887; † 31 Okt. 1978
x Johanne Marie Dorothee Hiestermann

b14. Ernst August Heinrich Emil * 16 Feb. 1891
x Catharina Dorothea Ella Wortmann
Wilhelm and his wife adopted Ottilie Minna Marie born Eime * 7 Jun. 1900 in Volksrust Concentration camp (her mother died here). † 2 Jul. 1973.
He had one illegitimate son with Franziska Gesine Schramm (daughter of Jobst Hieronymus Paul Schramm and Maria Catharina Bekker). This son
Johann Heinrich August HAMBROCK * 16. Jun 1873 in Lüneburg, Natal † 9. Sep 1940 on the Farm Bergheim near Paulpietersburg, Natal. This child was adopted after birth by the Hermannsburg colonist Jürgen Heinrich Rathje Hambrock and his wife Gesine Blohm. All Hambrocks in South Africa are descendants of this illegitimate child of Wilhelm Rabe.
A direct male descendant has test his Y-Chromosome. Based on this, Wilhelm Rabe had the Y Chromosome Haplogroup Ia1 with the subclade, Anglo-Saxon 10.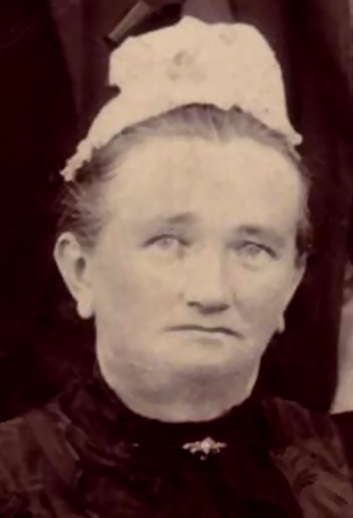 Wilhelm Rabe Ida born Wundram

Compiled by Thomas Hambrock (Email: thomas_hambrock[at]yahoo.de)